Jas Sole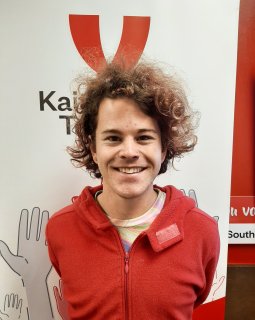 Outreach Volunteer - Dunedin
Jas joined the volunteering team in 2021 to get out in the community and connect with new faces and opportunities, in their journey of personal growth and development.
Before settling in Dunedin in early 2020 to gain some stability and community, they had spent a years travelling between NZ and the UK in various eclectic situations, including work as a professional scare attraction spooker, a pharmaceutical dispenser, performing in pantomimes and theatre, and even quitting jobs to chase the circus. This brought them back to NZ when they were swept up by a group of street performers in Newcastle, who taught them how to juggle and fit their body through a tennis racket.
Gregarious and charmingly chaotic, Jas is looking forward to getting out and giving some of their time to the volunteering community of Dunedin.