Better Together!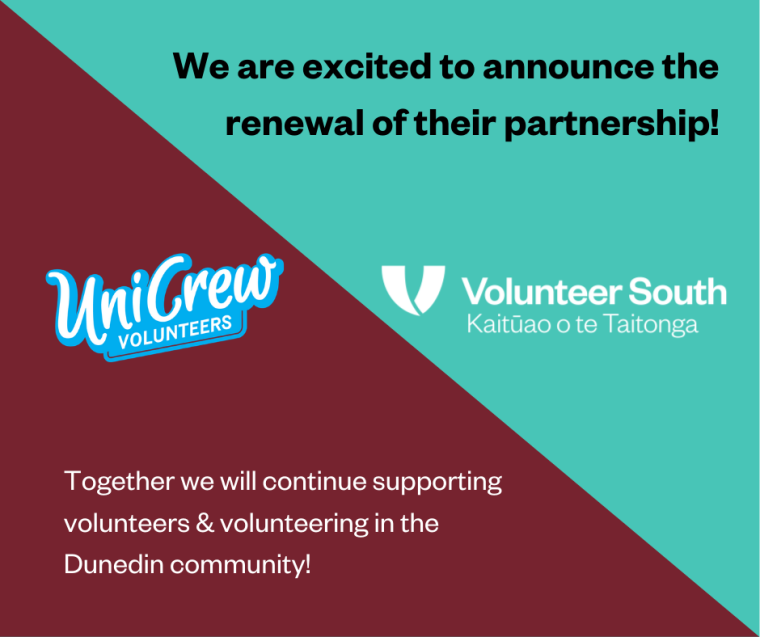 Kaitūao o te Taitonga | Volunteer South and UniCrew volunteers from the University of Otago are excited to announce the renewal of their partnership to support volunteers and volunteering in the Dunedin community.
2021 marks the 35th year that Kaitūao o te Taitonga | Volunteer South has supported the volunteering community in Dunedin. Just down the road, UniCrew Volunteers at the University of Otago has been working on channelling student time, energy and talent into Dunedin since 2014. The two organisations, both promoting the spirit of volunteering, have traditionally worked quite closely together to support their community to do collective good.
Volunteer South has led the way in the last year with its response to volunteering, empowering volunteer-involving organisations and creating stronger, more connected communities. As well as providing important support for the community during lockdown, the organisation opened volunteer centres in Invercargill and Waitaki and a hub in Mosgiel, and will open another hub in South Dunedin this month. The closer ties with UniCrew volunteers is a big part of Volunteer Souths strategy to empower the community to volunteer.
UniCrew proudly supports the university student population and prides itself on being there for the real issues that matter in the community. They work on tipping the meaning of volunteering on its head – bringing a healthy dose of creativity to how they engage with students and the wider community. UniCrew is invested in working closely with local groups to build purposeful, community-driven projects and seeks to maximise the impact that student energy, insight and hope can have.
The renewal of the partnership between Volunteer South and UniCrew features a change that will further enhance community resilience. UniCrew will align its efforts with those of Volunteer South with respect to spontaneous emergency volunteering. Volunteer South has developed an Emergency Volunteering initiative built on lessons learned during lockdown. "At one point we were fielding 50 enquiries a day, from both volunteer-involving organisations and volunteers, and they all wanted to know what they could do during the lockdown period in New Zealand," Manager of Volunteer South, Leisa de Klerk, says. "The work that UniCrew and Volunteer South did was important but we've made our systems easier and responsive to our work. It's very clear what we could do, should another emergency – any emergency – occur."
While the co-ordinated emergency volunteering initiative has been the biggest support to come out of the renewed partnership, it is by no means the only support, and the two groups plan to continue working closely together well into the future.