Friday 13th - lucky for two local organisations and students who connected through volunteering.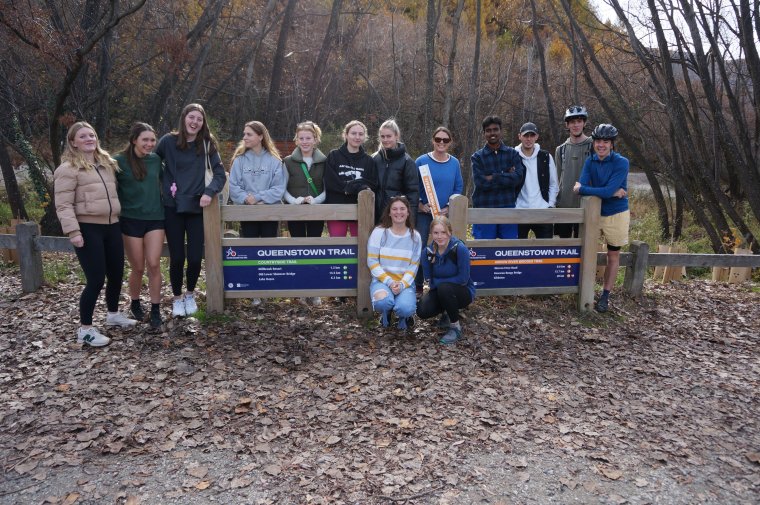 Friday 13th May was a National Accord Day supporting NCEA at Wakatipu High School, so students had the day off. Thirty students decided to spend their afternoon supporting their community and signed up to volunteer their time to support local organisations through a partnership between the school and Volunteer South - Central Lakes.
"The idea was launched in 2020 when Dunstan High School approached Volunteer South with a request to support volunteer connections between the students and the local community. There was a feeling that teacher only days were an ideal opportunity for students to become more integrated in their community and to make new connections with people and organisations." says Volunteer South's Gillian White.
Volunteer South have since coordinated three volunteer days at Dunstan High School and one at Mount Aspiring College in Wānaka. With planning underway for Wakatipu High School earlier this year being postponed due to high COVID cases in the community, it was decided to host a scaled back version this month, with all activities being outdoors and not placing students with any vulnerable groups.
The result was 30 motivated students who supported two local organisations, Queenstown Trails Trust, where students helped mark out the trails and collate name of people on the trails for gathering feedback, and Taramea Community Garden where students cleared the beds and planted garlic, as well as designing some signs and posters for the gardens whose vision is to create a space open to all to grow and share fresh produce.
Gillian, Regional Lead at Volunteer South, visited volunteers on the day to see what their experience was like and, despite the chilly weather, students were happy to get stuck in and help out.
Many of the students were from the Community and Service or Environmental Committees and everyone had the same sense of wanting to give back to their community, with some adding they want to ensure Queenstown is a good place to be in the future and that they recognise volunteering is good for their CVs.
Paige Cusiel, who is the lead prefect for the Environmental Committee volunteered with a group of friends and helped design a poster for Taramea Community Garden. "I haven't done much volunteering before, but it's been good learning about growing things locally and it feels really worthwhile and great to do something for the community."
Eoin McGlynn, also on the Environmental Committee felt he "may as well spend the day doing something useful and beneficial to the community." He also said afterwards, "I loved the community feel of the volunteering, as I met and talked to really interesting people I'd never even seen before, which is the atmosphere the founders of the garden are going for."
Head boy James Scoles was also helping at Taramea. Gillian spoke to him after they'd spent the first hour clearing the garden ready for garlic planting. He said smiling, "I felt I would probably be a bit useful so I signed up to help! It's incredible what has been done in an hour and the speed in which we've achieved it!"
Sunny Li, one of the founding members of the garden, was impressed by the students' enthusiasm. "They contributed their creative ideas and designed signs and a poster for the garden with very limited materials which we were really impressed with. Cleaning one whole bed and planting the garlic worked very nicely with all their positive energy."
"It's still the very beginning of our community garden, we have a clear vision of what we want to create for our community and this event has shown us that this is possible and encouraged us to keep doing what we have been doing." Sunny said.
Over in Arrowtown 15 students were busy with the Queenstown Trails Trust. Rachel Scobie, lead prefect for the Community and Service Committee, was with a group of volunteers gathering contacts from trail users to be surveyed about their experience on the trails; an activity essential for their funders. Often volunteering on the netball court Rachel has always loved giving back and enjoyed the change. "I come from a family who believe in supporting our community. We use the trails here, so it's awesome to be able to give back to the trails trust!" Rachel said.
The trails trust certainly enjoyed hosting the young volunteers. "It was great to see the young adults of our community getting involved on our trails. Most of them were keen trail users already, so it was a good opportunity for the students to gain a better understanding of what goes into building and maintaining our wonderful trail network." Whitney Wanous, Queenstown Trails Trust said.
Following the success of the day it is hoped it will become a regular initiative at Wakatipu High School and, COVID permitting, will see a wider range of organisations and students getting involved in the future.
"As a school, we value Active Citizenship and it is really nice to have a group of students willing to give back to a community that supports the school and its students so well. We have really appreciated the support of Gillian and the team at Volunteer South and we look forward to building on the successful launch of the Community Service Day at WHS." said Associate Principal Oded Nathan.
For more information about school based volunteering please contact gillian@volunteersouth.org.nz - we'd love to chat.
Pictured - Wakatipu High School Students with Whitney Waneou, Queenstown Trails Trust.