Grand opening for Volunteer South - Waitaki!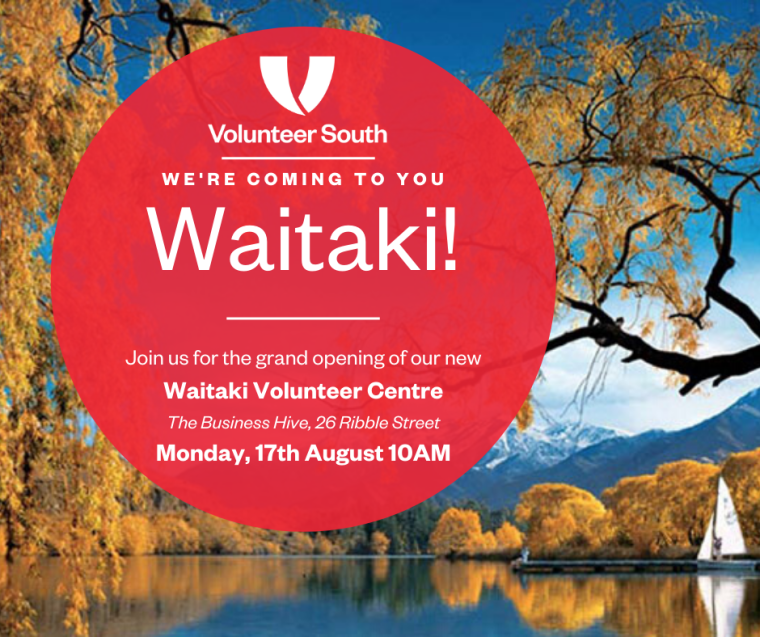 Volunteer South, formerly Volunteering Otago and Volunteering Central, will be formally opening their new Waitaki volunteer centre on the 17th of August as a part of their continued efforts to support the wider Otago and Southland community with volunteer connections.
On the 22nd of June, Volunteering Otago and Central formally became Volunteer South. The announcement to merge and rebrand was also followed by their annoucement of new volunteer centres in Invercargill and Oamaru. The 17th of August will be the official start date of the new Volunteer Centre for Waitaki based at the Business Hive on Ribble Street.
Volunteer South is keenly aware of the needs of the wider Otago community and wishes to support any person to volunteer, no matter where they live. Opening a centre in Oamaru for the Waitaki community has long been considered and with the way that people volunteer changing in the post-lockdown world, Volunteer South is doing all that it can to support the Waitaki community. Removing barriers to volunteering has been a huge part of Volunteer Souths 'empowerment' objective during their rebrand.
The organisation has led the way in the Southern region with a number of initiatives and activities that build on their key values of empowerment and community support. During lockdown the organisation supported the welfare response in both Central Lakes and Dunedin/Waitaki/Clutha working directly with the local councils and Civil Defence. The development of key volunteering guidelines in the Queenstown Lakes district set the standard of volunteering during a pandemic that was eventually replicated throughout Aotearoa New Zealand.
The Waitaki volunteer centre will employ one staff member from the outset with the support of the wider Volunteer South team. The centre will operate the community connections programme from the start; a programme that supports volunteers into meaningful and rewarding volunteer opportunities with organisations looking for volunteers. The migration volunteering programme and supported volunteering programme are anticipated to be a part of the volunteer centre in Waitaki bringing in both more paid and volunteer opportunities for the Waitaki community to be involved.
The Volunteer South – Waitaki volunteer centre will formally open on the 17th of August at 10AM with Mayor, Gary Kircher, cutting the ribbon. The event, which is open to the public, will be followed by morning tea and a chance to meet the Volunteer South team. The opening will be held at the Business Hive on Ribble Street until 11:30AM.