International Volunteer Day 2022 - Together, Act Now.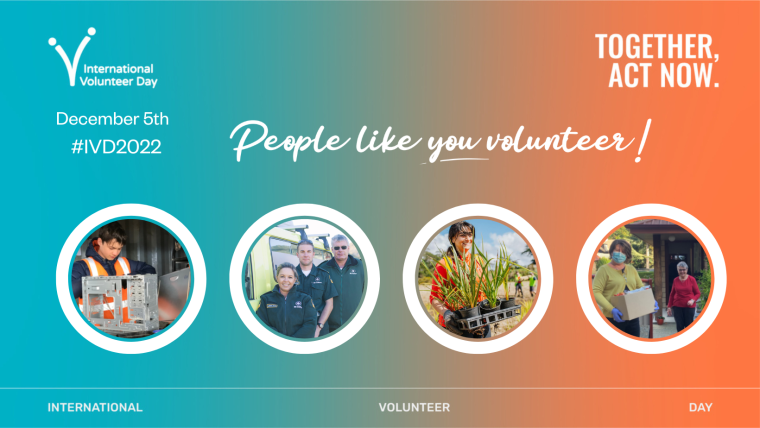 December the 5th is International Volunteer Day and Volunteer South | Kaitūao o te Taitonga is celebrating volunteers and the change volunteers bring about in their communities.
Established by the United Nations the theme this year is 'Together, act now' and celebrates solidarity through volunteering and the power volunteers have to drive positive change.
The team at Volunteer South have recently hosted a series of Volunteer Engagement workshops with volunteer managers across the region and one of the key messages has been the importance of volunteers being able to recognise the impact they make through their actions.
"Everyone is so busy and understandably people are coming out of two years of disruption re-evaluating their lives and volunteers are no exception to this. Volunteers are asking, 'If my volunteering doesn't have a big impact - why am I doing it?' "
"We have been encouraging volunteer managers to really ensure their volunteers understand the difference they are making in their community - the impact to those they are supporting, the benefits to the environment they are improving or the difference to the lives of those involved in the event they are supporting." says Volunteer South's Regional Lead Gillian White.
'Together, act now,' encourages unity, action and mobilisation as well as recognising the invaluable contribution of volunteers worldwide.
The message from Volunteer South is clear - anyone can volunteer and anyone can make a difference by sharing their skills, experience, time and energy to make a difference and change people's lives. Start locally, start small - whatever time you can offer you can have an impact in your community.
Volunteer South are sharing volunteer stories throughout the week to highlight the difference volunteers are making in their communities. If you are inspired to volunteer the team can help you find a role that sparks your interest.