Managers blog - Dunedin and Waitaki September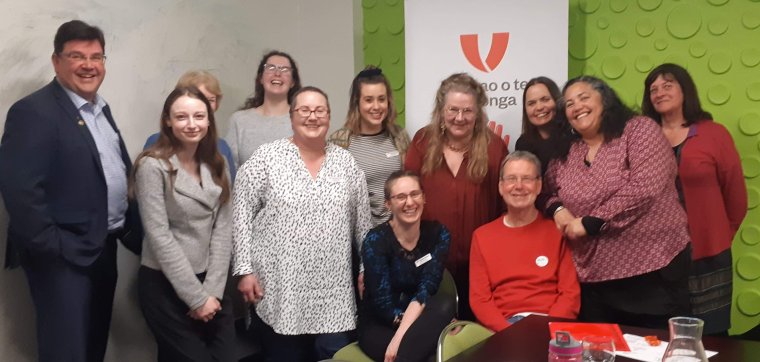 We're in this together.
This week is Mental Health Awareness Week and even though it feels like it should be Mental Health Awareness Year – there are a few things that we have been incredibly grateful for at Volunteer South – things that have improved our wellbeing and the wellbeing of all those we work with in our community.
This year, Volunteer South has partnered with Southern Health to support the Getting Through Together messaging around the Queenstown, Dunedin and Oamaru areas. The reason for this partnership was simple – when are we going to work together if not now? Mental wellbeing is so incredibly important and with the change in alert levels again, we're all aware of what kind of stress we're under. The team of 5 million are Getting Through Together.
Southern Health has engaged a team of volunteers across Otago to help get the Getting Through Together messaging out in the community – whether it be at cafes, at your local dog park or even at your childrens childcare. Wherever you need a little bit of support – we aim to be there. Our GTT Champions are using their voice to help you get the help that you need.
More developments are happening within Volunteer South as well – all designed to help and support the local community. Earlier this week, we were holding a community consultation with the Waitaki district volunteer involving organisations to help make sure that the support we are giving in the community is specific to them and works in well with the fantastic mahi already being done. This first community consultation was preceeded by a survey in which over 30 local organisations participated – sharing their thoughts of how Volunteer South can support the community. The next community consultation for the district will be held in November. From this information, we can plan for our (already busy) 2021 year!
This last month has also seen Volunteer South host its first annual hui for the whole organisation, with new team members from Invercargill and Waitaki joining our existing teams in Dunedin and Central Lakes. The day was peppered full of fantastic activities and stories and gave the team the chance to really see how much we've grown and how much we do and most importantly – where we want to go! A huge thank you to Petridish for providing the amazing space for us to come together!
The types of volunteers now walking through our doors are vastly different from the ones who would normally be coming to see us at this time of year. We are now seeing more people who have been unable to make connections in Dunedin due to Covid, lockdown or unemployment, and are now seeking volunteer opportunities in order to make those connections, and hopefully learn some new skills as well. The challenge with these volunteers are that they are hesitant to take on volunteer roles that require a commitment of more than a few weeks – as they're hoping to gain employment and do not want to let anyone down. This really begs the question – how are your volunteer opportunities matching up to the volunteers who are readily available? What skills or training can you now provide to these types of volunteers who are so willing to learn?
Volunteer South is proudly working with the Ministry of Social Development to support people into volunteer opportunities as a lead in to connections, societal impact and the enhacement of both skills and mental wellbeing. We're also a proud supporter and participant of the pop-up job shops hosted by MSD supporting people into meaningful employment (and volunteering can help be a pathway to that). Our world is changing and so are our volunteers – far quickly than any of us could have anticipated. With partnerships like those with MSD, and with Southern Health, Volunteer South is looking ahead to how best we can support you and your community. Kia kaha, team of 5 million.