Member Spotlight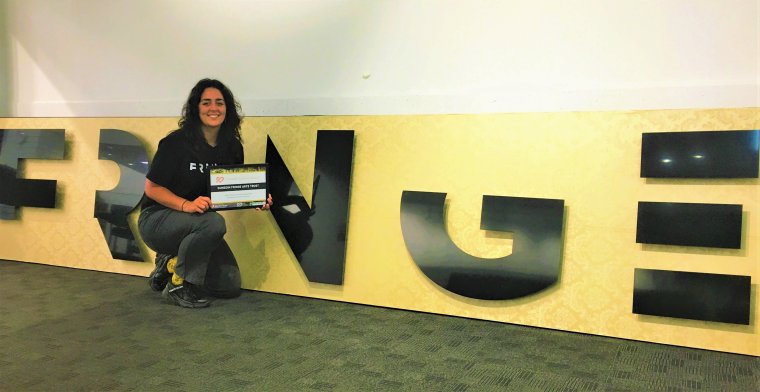 DUNEDIN FRINGE ARTS TRUST
Photo and story by Angela Reid, Story Writer Volunteer
The Dunedin Fringe Festival is not your typical arts event, and "Fringe HQ" is not your typical office space.
The premises stand a stone's throw away from the Octagon, at 19 George Street. Walking through the door from the main street, you're immediately met with the vast space of what used to be a gift/souvenir shop. Now it's dotted with blue chairs and stretched-out tables, along which a scattering of Fringe staff members sit at their workstations.
This layout suggests one egalitarian team sharing a single, open space. It's a fitting image of equality, given what the Dunedin Fringe Arts Trust's new Volunteer Co-ordinator, Bailey Gardner, says about the non-profit organisation.
"They really put people first; always people at the forefront. How people are doing, upskilling people. And there's just a lot of care and thought put into how well we're doing, how we're being treated… it's really holistic," Bailey says.
"[There's] a lot of manaakitanga here. It's good."
Manaakitanga and team comraderie are underlying themes Bailey touches on as she chats, cup of tea in hand, in the staff kitchenette at the back of Fringe HQ.
The Dunedin Fringe Arts Trust was set up in 2004 to produce the Dunedin Fringe Festival, which celebrates modern, innovative art and performance. While the festival has been held since 2000 — it was initially run biennially alongside the Otago Festival of the Arts — the trust went solo in 2008 and made the Fringe Festival an annual fixture on the city's calendar every March. The trust also produces the New Zealand Young Writers Festival, the AMPED Music Project (which provides a mentorship programme, workshops and gigs for young musicians) and the White Box window art gallery.
Bailey's new to the organisation's Volunteer Co-ordinator role, having started in November 2021, but she's not new to the trust itself. She worked with them last summer as a publicity intern. She "kind of bounced around doing a bunch of things" such as publicity for the Midwinter Carnival and production work for the Young Writers Festival before coming back to the Fringe. Now she's recruiting for the 2022 Dunedin Fringe Festival, scheduled for March 17-27.
The 2020 edition was cancelled due to the Covid pandemic but the 2021 festival was one of the most successful ever, breaking attendance records. Bailey believes this result shows there's a real need for art and art events in Dunedin and for the connection that comes with "sharing something really, really wonderful". The Fringe Festival brings the community together and is sacred to the heart of the city, she says.
It also brings people together through volunteering, something Bailey saw firsthand as an intern.
"Interacting with the volunteers last year, they seemed to be having a grand time and you could really tell that it was a really cool team of people who all knew each other and, yeah, it had a really good vibe about it," she says.
Bailey's part of a core team of about eight employees and interns working on the Fringe Festival, and, as this team is quite small, volunteers are "super vital".
"I just don't think the festival would really function without them," she says.
Of all the programmes the trust produces, the Fringe Festival requires the biggest volunteer pool — Bailey's aiming to recruit 50-60 people for the 2022 edition. Each year, volunteers are needed for pre-festival work such as the programme launch and post and distribution. And then there's the event itself.
"And there's roles galore," Bailey says of the actual festival. "[There are] so many things that volunteers can do, from front of house to stage running, to sound, hospitality work — there's a lot of different things that people can be doing to volunteer for us."
Details of available roles are posted on the trust's website, and Bailey wants to hear from people who are dedicated, eager and willing to try new things. She also recognises the need to play to people's strengths, and applicants are encouraged to communicate theirs through the online form provided.
"I think it's really smart and important to play to people's strengths and make sure volunteers are getting as much out of this as they can. Because we want them to as well," Bailey says.
"As much as it is still work, we want this to be as enjoyable an experience as possible."
This year's volunteers will need to have a vaccine pass. But they will not need to have previous experience in the field they want to participate in, "which I think is very good because so many volunteers are just looking for experience," Bailey says.
There's a community aspect here. "We try and get as many people who really need volunteer experience as possible." That includes people involved with Disability Otago, who take on roles such as distribution each year, and students who have volunteer-work requirements for their courses.
"And we also want volunteering to actually be helpful for their [any volunteer] future as well, and future prospects if they're looking for a job. So we're very happy to provide… [references] and just really support them as much as we can," Bailey says.
Volunteers gain more than experience from festival work. They're able to sit in on shows and acts they may not get to see otherwise. They can also gain valuable insight into what happens behind the scenes and how a show comes together before it takes to the stage, something that attracts the likes of theatre students.
There's also the comraderie. Bailey says many past volunteers are still friends with people they met during their festival volunteer experience.
Bailey believes the camraderie she witnessed between the volunteers in 2021 was a factor in the trust winning the Arts and Culture category of that year's Dunedin Volunteer Awards. She credits her predecessor, Eliana Gray, with doing "such a fantastic job last year".
"Watching the dynamic that the volunteer team had last year was just incredible," Bailey says. "They had this energy about them and, even from the outside [as an intern], I really feel like the work that happened last year, they really deserve it [the award]."
Bailey says although many students volunteer for experience, there's always a good range of people joining up, "really across the board", and many of the festival's long-time volunteers are older.
She says over half of last year's festival volunteers have signed up for the 2022 edition too.
"We really love those returnees because the volunteers are so vital to the festival. And not just the value of people who've done it before but people who really enjoy doing it and are really passionate about Fringe and what it does for artists and what it does for the city. It's really good having those people around."
Bailey loves her new job and is excited about this year's festival. She feels volunteering in general is hugely beneficial and that the Fringe provides a great environment to nurture it. She exudes youthful exhuberance, and she wants others to get involved and share in the magic of a Dunedin institution.
"I think the Fringe has a very good relationship and legacy with volunteers, and I guess I just hope that I can add to that and build on that," she says.
• For more information about volunteering for the Dunedin Fringe Festival, and to submit an application form, go to www.dunedinfringe.nz/volunteer1 or email Bailey at volunteer@dunedinfringe.org.nz.

Their current volunteer role listings can be found here.