Member Spotlight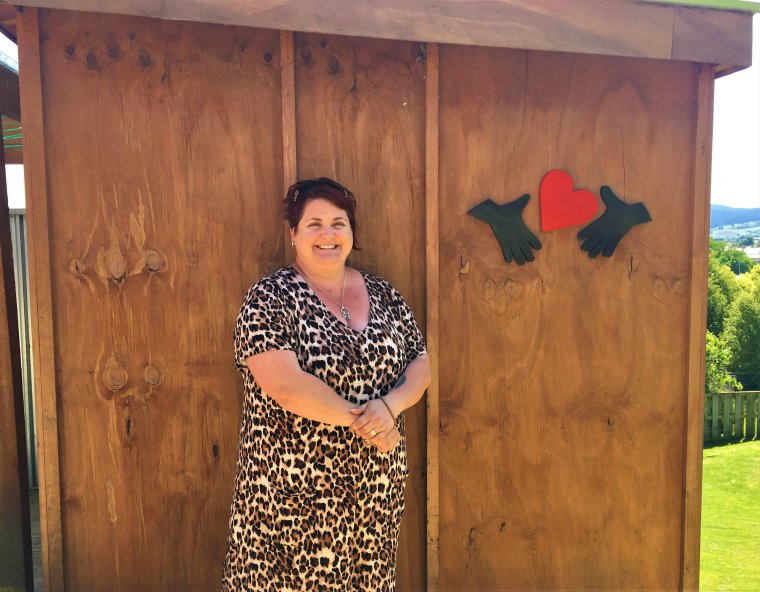 FOSTER HOPE
Photo and story by Angela Reid, Marketing Volunteer
Juanita Willems is a volunteer devoting a lot of her heart, much of her time and a sizable amount of space in her family home to the charity Foster Hope.
"For us it consumes a pretty big part of our family life here. It's what we do", especially at this time of year, she says.
It's a balmy November morning and Juanita's sitting in her dining room/office, on the outskirts of Mosgiel.
It's the calm before the storm. Juanita, as Foster Hope's Otago/Southland co-ordinator, is awaiting the pre-Christmas onslaught when volunteers and supporters mobilise for the charity's annual Christmas Gift Drive. A few gifts have drifted in already. Yesterday she fielded several calls from businesses offering their help. But things are just warming up.
"We're probably another week away from really busy. And then it just won't stop."
This will be Juanita's tenth Christmas as a Foster Hope volunteer. Her children "have grown up with it", knowing that supporters will arrive at the door with goodies destined for children in the care system.
This gift drive is just one event in the Foster Hope calendar. The charity works year-round putting together backpacks to be given to children and young adults (from infants to 18-year-olds) when they're removed from home and placed into foster care.
Many of these children carry the effects of abuse or neglect and leave for their new placement with little more than the clothes on their back and no experience of owning something for themselves. They don't know where their next home will be or how long they'll stay there, and they may move several times.
Foster Hope backpacks symbolise love and support for these children and their caregivers. They provide practical help and show foster children that they matter, that someone in the community cares about them.
"Every child deserves to know that someone cares about them," Juanita says.
The backpacks contain things many of us take for granted: toiletries and hygene products, new underwear and pyjamas, books, clothes. There's also a carry-all bag to store more belongings they may accumulate on their journey. The cherry on top is a teddy, or other personal item, placed at the top of the bag so it's the first thing children see when they open it.
The backpacks are not mass produced, Juanita says, they're put together with thought and care. "They're packed with love."
"We know the backpacks aren't going to change the world, we know that. We know that it's temporary — it's really only meant to support the first sort of 48, 72 hours for a child — but there are things within those packs that stay with children for life."
Juanita rarely meets these children but she hears the heartwarming stories. There's the 12-year-old girl who was in tears when her backpack revealed the first pair of jeans she would own. And the child who received a homemade blanket that "has just become the most prized possession that's going from home to home" with them.
"That's why we do it. That's the best part about it."
Both children and carers are grateful for the backpacks, social workers have told Juanita, and there's no doubt they're making a difference.
"They are making a difference, and the kids are not going to bed with no pyjamas, they're not going to bed cold, they're not going to bed with no underwear.
"The schools are telling us that it is making a difference to these kids being able to get up and go to school the next day after they've been uplifted. Because that's huge; keeping that routine is so huge for these kids."
Juanita's been in their shoes herself. She was fostered on and off from the age of 2 before being adopted into a loving family when she was 7. Her adoptive parents have said the backpacks would've made a difference when she went into care, as "there wasn't anything like that around."
Other Foster Hope volunteers have a similar connection to the care system — they or a sibling may have been fostered, or they may be a foster carer or a social worker now.
Volunteering and support for Foster Hope comes in many forms. Some people volunteer their time, be it picking up or dropping off items, sorting through clothes or checking books for backpacks, wrapping presents, or helping at fundraisers. Other people may volunteer financially, donating items, like shampoo, that they bought as extras during their usual weekly shop. There are also those who donate their skills, such as the ladies of the Inner Wheel Clubs and quilting groups who make blankets and quilts for the backpacks. These women are examples of volunteers in our community who often aren't recognised, Juanita says.
"They're volunteering their time and their money to make those quilts and then donating them to us. So volunteering in that respect looks different. They're not physically necessarily coming and building a backpack but they're really heavily contributing to what goes in it."
Organisations like Rotary clubs also get behind Foster Hope. Sunrise Rotary and Mosgiel's Altrusa Club are two sources of volunteers who'll be helping with this year's Christmas drive.
Juanita oversees Foster Hope's South Island volunteers from Oamaru south. Last financial year, 1800 backpacks were distributed throughout the region. 800 Christmas presents were gifted in 2020 and Juanita expects there'll be about 900-1000 presents given this Christmas.
This work's not gone unnoticed. The efforts of Juanita and her band of volunteers and supporters were recently recognised when Foster Hope Otago won the Volunteer Group of the Year category at the 2021 Dunedin Volunteer Awards.
"It obviously means that people think we're doing really good stuff. And that's really cool."
It was nice to know the group had been nominated many times for that award, Juanita says, and they are always pleased and humbled by any acknowledgements they get, be it as winner, finalist or nominee.
"The volunteers are really, really crucial to the work that we do. We're all volunteers, myself included, so we don't receive any compensation or anything for the work that we do. And it was just really nice to be able to say to the team 'Hey, you know, it's been recognised'."
Volunteering for Foster Hope is very rewarding, Juanita says. And there's always something to do, some way to help, so she'll find a job for anyone interested in contributing.
She got involved after coming across the charity online. The organisation was started by two women in Auckland about 12 years ago but there was nothing south of Christchurch. Juanita rang founder Louise Burnie, who asked what she'd like to do.
"I said 'well, how about I start with a pyjama drive?'"
That first drive netted about 50 pairs of pyjamas, "which was pretty awesome." The 2020 and 2021 pyjama drives were affected by Alert Level restrictions "but normally we get between 800 and 1000 pairs of PJs in that drive that we do at the start of the year. So it has definitely grown."
Juanita says she's always been driven to help people, and her own childhood experience motivated her engagement with the charity. She's sharing her story so people will be aware and understand what these children go through.
"We need people to understand that you can remove a child from their situation but just because you've done that does not mean that their life just instantly improves," she says. "There are so many kids out there who have been affected by stuff that has happened to them before they've gone into care that will stay with them for the rest of their life. And I'm one of those people now."
By this she means her blindness. Juanita's long had visual impairment, due to injuries received before going into foster care, but her condition's deteriorated over the years while she's been with Foster Hope. It's meant things have had to change, especially as she relies on others for transport now. The Covid pandemic also hampered things, keeping operations housebound and cancelling fundraisers, so the finances have taken a hit.
"We've also had to look at the dynamics of the work that we're doing," Juanita says. "So we've gone 'is what we're doing still really relevant?' Obviously foster kids are there but is there more to it? If we have the resources, are there kids within the system that we can support that aren't foster kids but their families are working with social workers? So we've made some changes across the board with that. So we've actually… even though we've got less money, taken on more opportunities to support care children."
That includes providing backpack items for families who are working with social workers to keep the child at home but are struggling financially. By helping in this way, there's a good chance the child will be fed or have the busfare for school, she says.
The changes mean things are different, rather than harder, Juanita says. She believes volunteering's changed too, that volunteers have less time to give, which is why she's managing more volunteers, more often. "And that's okay too. That's the nature of volunteering."
It's been hard work getting to this point, Juanita says. But despite the challenges, Juanita's come through it all and continues to be the heart of the organisation in the south. Her Foster Hope work keeps her going through tough times, she says.
"As long as there's a need for it, and as long as I can keep doing it, that's what we'll do."
For more information about Foster Hope, go to www.fosterhope.org.nz
If you'd like to volunteer with Foster Hope, please contact Juanita at otago.fosterhope.org.nz or 027 489 8162 or Facebook: Foster Hope – Otago
Their current volunteer role listings can be found here.