Regent Theatre Movie Ticket Giveaway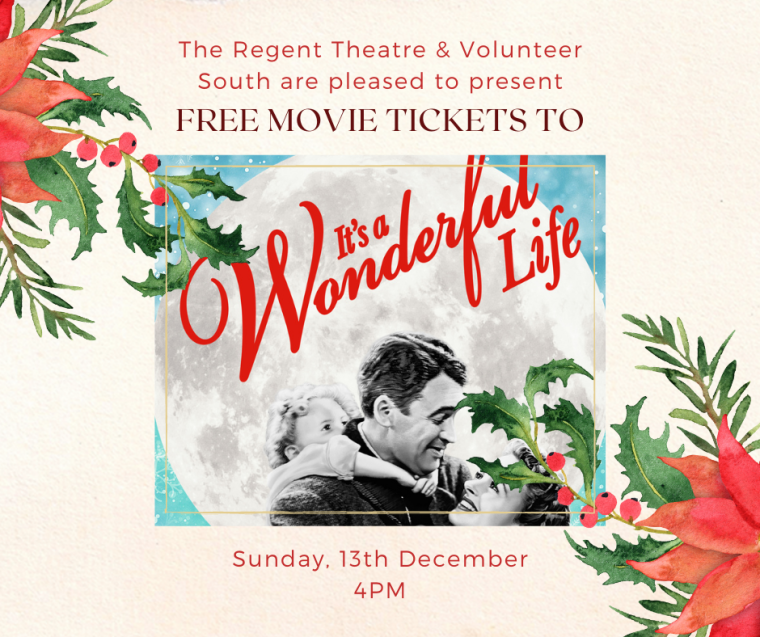 International Volunteer Day Appreciation Event
The Regent Theatre has generously given Volunteer South ONE THOUSAND movie tickets as a way to celebrate the end of the year, International Volunteer day and volunteers in general. The movie is a Christmas classic, It's A Wonderful Life, so if you want a great afternoon out with other volunteers in the Southern region, this is a great thing to do!
It's a Wonderful Life is a 1946 American Christmas fantasy drama film produced and directed by Frank Capra, based on the short story and booklet The Greatest Gift, which Philip Van Doren Stern published in 1943. It's a Wonderful Life is considered one of the greatest films of all time. It was nominated for five Academy Awards, including Best Picture, and has been recognized by the American Film Institute as one of the 100 best American films ever made.
If you are an organisation and are wanting tickets for your own volunteers, please head here and let us know how many tickets you want. If you are a volunteer, whether you volunteer for an organisation or not, please get in touch with us at office@volunteersouth.org.nz and let us know if you would like to some tickets.
If you have any questions, please don't hesitate to get in touch with us!