Volunteer Voices - "Do it with like-minded friends and you'll have fun and feel so satisfied." Anika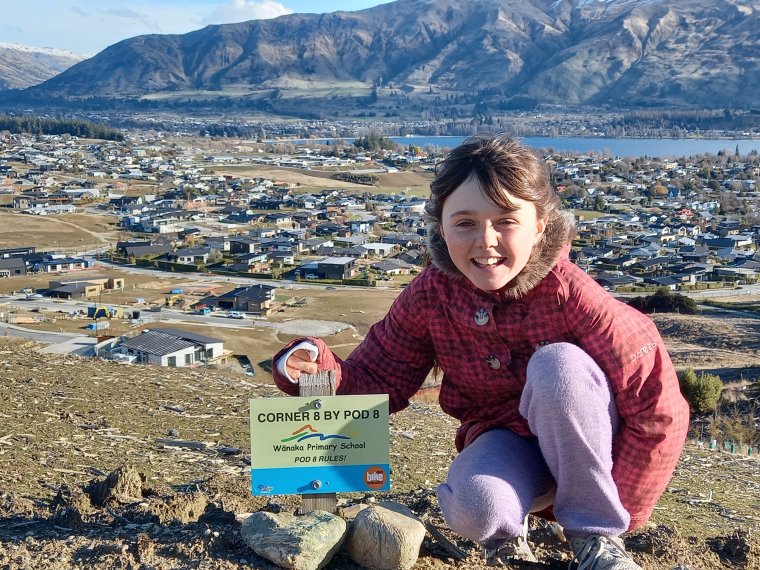 For a good dose of hopefulness have a chat with young volunteer Anika West. You'll feel the future is in very good hands.
In year 8 at Mount Aspiring College Anika started community work early. "I remember planting young trees for the Te Kakano Trust Nursery with Mum at 5 or 6 years old," she says. "Now I get the satisfaction of seeing those trees growing happily in their natural environment."
This year Anika is working on her William Pike Challenge, a programme facilitated through schools to build resilient, confident and well-rounded students.
It's a three part challenge - 5 outdoors activities, 20 hours pursuing a passion project and 20 hours of community service. "I've already done rogaining and I'm learning to play the drums for my passion project," says Anika.
Her community service is proving rewarding and fun. She continues at Te Kakano which runs dedicated planting sessions for the William Pike students. "Last time we were shovelling mulch up near the Lismore Park water tank. It's where new citizens can plant the tree they have received. It was so much fun - music, snacks, friends. I'd have stayed all day if I hadn't had to go to dance practice."
On teacher only days at MAC she has helped a friend's mother who teaches 5 and 6 year olds at Wanaka Primary."It was cool. We supervised them doing art, read them books and played outdoor games. They were so cute."
Students can count random acts of kindness for their challenge so long as no reward is being given or paid. "My next door neighbours were moving so I baked them some ginger crunch."
Anika comes from an active family that highly values giving back. Mum Megan was a founder of Te Kakano, she is involved with Wai Wanaka and fought hard for the establishment of the Community Hub. When her Dad's (Scott) business was quiet due to Covid he used the time to work at Wai Wanaka, planting native trees, and doing rabbit control. Her sister Susannah has completed the William Pike Challenge and the Duke of Edinburgh Award.
And fun time? "Dad's a keen skier so we spend a lot of time skiing at Treble Cone but I love dancing the most." A member of a competitive hip hop crew she practises weekly. "The thrill of being on stage and the joy after you've nailed it. That's my happy place."
Anika knows she will continue to volunteer. "I will always be passionate about the environment and caring for others and I'd highly recommend people my age to give it a go. Do it with like-minded friends and you'll have fun and feel so satisfied."
Written by Juliette Hicks, Volunteer South.