Volunteer Voices - "For me it's just an all-round good story" - Norm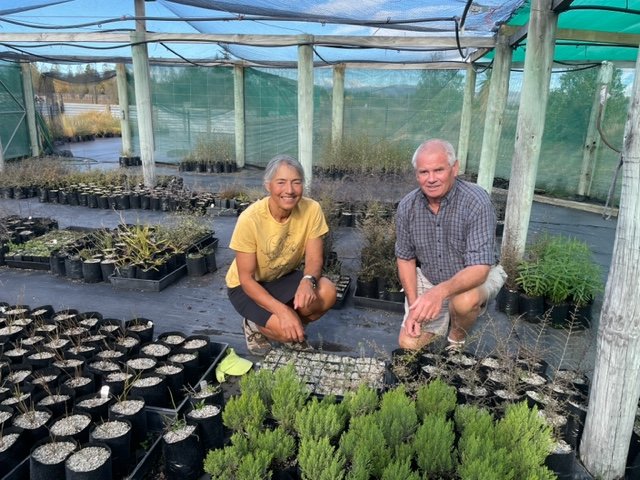 Norman Peek loves being around people. It's a bonus if they are people who care about the environment.
Volunteering for the Haehaeata Natural Heritage Trust's nursery in Clyde enables him to spend time with like-minded people who are committed to positive environmental change.
"My Haehaeata Trust nursery work suits me to a tee. It's a wonderful mix of camaraderie, knowledge and learning and shared dedication to recapturing wasteland in this area."
Formed in 2017 The Trust operates the Clyde Railhead Community Eco Nursery. They view the grey drylands of Central Otago as places of quiet beauty with more wildlife than is apparent. The nursery sources seeds locally and grows plants, many of which are endangered. With an enthusiastic volunteer team and partnerships with other environmentally conscious organisations it has become a hub of learning and participation.
For Norm his nursery work is a way of expressing gratitude. "After moving to Clyde in 2016 I had some serious ill health. I was so grateful when I recovered that I got to thinking about how I could give back - something to show an appreciation for life and my community."
He likes to do the practical stuff around the nursery. "I leave the admin to those much better at it than me." Since joining he has been involved in a variety of projects including bin building, working in the hardening area where the seedlings spend the first 6 months of the year, weeding, disinfecting pottles (very important, bacteria are the enemy) and maintaining watering systems.
"Our Nursery Manager Dhana Pillai is very knowledgeable and an amazing leader. She organises us all and it's a very happy, chatty environment. I look forward to Thursdays at the nursery."
Born in the Waikato to a fourth generation dairying family Norman grew up near Te Aroha. It was a small community and volunteering was ingrained. "My family were people of the land and I must have inherited the planter gene from my grandfather. He planted the now impressive totara trees that line the Piako River."
Moving to his own farm in Brydone, Southland Norman was a busy farmer but never lost sight of the value of community involvement. "I held some governance roles and enjoyed taking part in all the activities associated with a small farming community."
Norman and his wife love life in Clyde. "It's a very caring community and I find people genuinely concerned about the environment and the effects of climate change." His aim is a simple life. "I have a couple of farm administration roles but they never interfere with the time I spend with my family which is my priority."
Volunteering at Haehaeata nursery enriches Norman's life. "I have met people who have a passion for the environment, I'm not isolated at home and I find it uplifting to be aware of my natural surroundings. For me it's just an all-round good story."
Written by Juliette Hicks, 2023
If you'd like to find out more about Haehaeata Natural Heritage Trust, check out their website: https://www.haehaeata.org.nz/home