Volunteer Voices - Hannah Lind, Mums4Mums Alexandra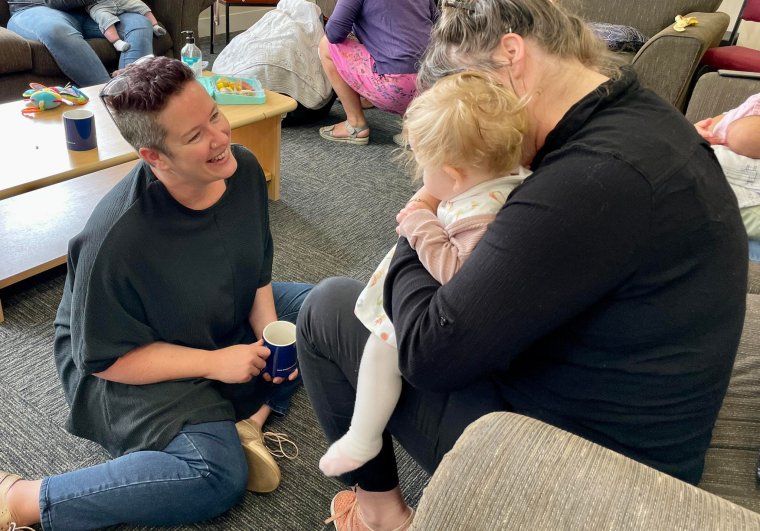 "I married a couple on a whitebait stand once,'' laughs Hannah Lind. So begins an entertaining chat with the wife and mother of two, community volunteer, wedding celebrant, catering assistant and all round good sort.
Today Hannah is chatting about her role as a volunteer Peer Supporter for the Well South programme Mums4Mums in Alexandra. This welcoming group of mothers, mothers to be and Peer Supporters meet regularly to talk about "anything and everything" and to support each other through the journey of early parenthood.
Mothers say being the mum of babies or small children can feel like moving to another planet. Moments of breathtaking exhilaration offset with times of excruciating bewilderment and disorientation. Hannah knows, she's been there.
"When I had my first baby I joined an incredible parent support group in South Canterbury where we were living. My Peer Supporter there saw me through the challenges of breastfeeding but above all helped me gain real confidence with being a parent." When her supporter left she felt she wanted to give back so she took on the role of a Peer Supporter herself.
Growing up on a sheep farm in Mataura Island ("Between Edendale and the southern end of the Catlins coast, it's not an island!'') Hannah liked the idea of farming more than the reality. "As a teenager I wandered around the farm with a poetry book tucked under my arm" she chuckles.
A bus ride to Southland Girls High an hour's drive gave Hannah time to contemplate her future. "I toyed with being a vet (I didn't like blood), an olympic ice skater (you have to be able to skate) and a writer." Real romance came when she met her future husband Clement, a pupil at Southland Boys,at an after party for a school production.
Hannah achieved a certificate of Theatre, Television and Radio at Aoraki Polytech and worked for 8 years as an ad writer and news reader for Mediaworks in Dunedin.
A move to Fairlie for her husband's work gave Hannah an appreciation of the challenges of making a new start and the need for support as a young wife and mother. "I joined the lovely local knitting group for companionship but babies bring a whole new level of neediness" she smiles.
Now living in Alexandra with her husband and two children (9 and 5) and cat Sadie, Hannah loves her local community. She swims regularly ("Not well") and helps her sister in law in her catering business. Her husband works as a teacher and furniture maker. The family loves to get out and explore.
Hannah's job as a wedding celebrant is a source of pure joy. "I'm part of people's happiest day. It's really uplifting."
Her volunteer role as a Peer Supporter is equally rewarding. Mums4Mums has an open door policy and mothers can come and go as they please. The kids can come too, sometimes there are guest speakers and there's baking.
The Peer Supporters have been through the challenges of early parenthood themselves and remember vividly what it is like. "It's very relaxed" says Hannah "Sometimes we talk about breastfeeding and nappies and sometimes it's about what's on TV". Ongoing friendships are a happy by-product.
Aside from the relaxed chatting, things can get very real when challenges are shared. Hannah says "We want mothers to know they are never a failure. The journey may be different from what they expected but they haven't failed." It's also about managing expectations. She says "Being a mother is not all about white linen and Instagram perfection.It can be messy and confusing and lonely. We want them to know they aren't alone in having these feelings and that this is a phase that won't last forever."
Hannah's role is at its most rewarding when she sees the real differences in the Mums. "Over time they move from being terrified, overwhelmed and unsure to becoming confident, comfortable and like they have been parents all their lives. In turn they can support other mothers. It's a lovely circle."
Hannah feels fully supported in her volunteer role and says it is the perfect fit for her. "I get way more out of it than I give" she says. Volunteering doesn't mean you have to over commit. You only have to give what you can give. Would she recommend it? "Absolutely. Volunteering enriches my life and is super gratifying."
Mums4Mums is a Well South Primary Care Health Network initiative. The group meets several times a month to support mothers of young children. If you would like to know more contact Jo O''Conner, Tel: 0272104716 or view roles at https://volunteersouth.org.nz/organisation-profile/1170-well-south-primary-health-network