Volunteer Voices: "I love that KiwiHarvest ticks two boxes I'm passionate about." Beth Lyons.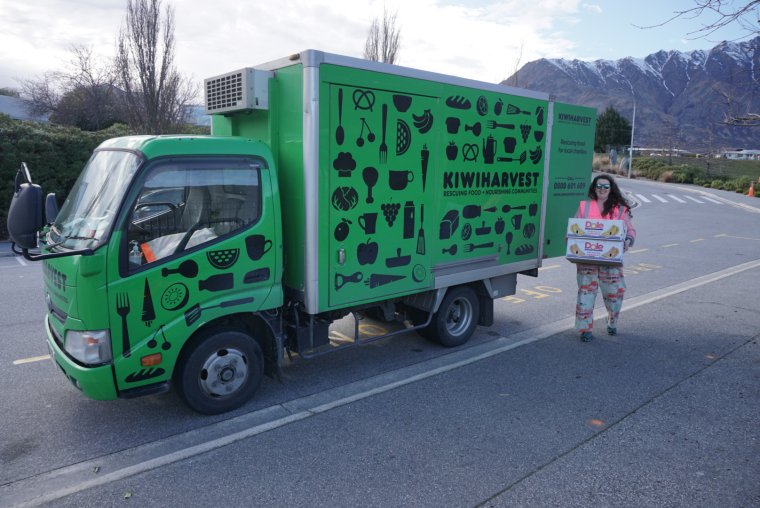 A delicious three course meal made entirely from rescued food set Beth Lyons on her volunteer journey.
"I attended a dinner where KiwiHarvest and Sustainable Queenstown made a meal from kai that had been rescued from local supermarkets, restaurants and cafes" says Beth. "I liked what I heard about KiwiHarvest, began volunteering for them and now I help rescue and redistribute food too."
In Queenstown the KiwiHarvest truck collects donated surplus food from the main supermarkets and in the CBD the KiwiHarvest e-bike, towing a trailer, collects from 7 local cafes.
The perfectly good food is sorted, packed and redistributed to people in need through various local charities across Central Otago including the Salvation Army, Baskets of Blessings and Happiness House.
Beth says "I love that KiwiHarvest ticks two boxes I'm passionate about - care for people and care for the environment. When we collect and redistribute food we are part of a bigger process of reducing waste and diverting it to people who might be struggling to make ends meet."
Born and raised in North Wales, Beth has had various careers from traffic controller to journalist. She came to Queenstown with her partner Chris four years ago and they were quickly smitten with the lifestyle, enjoying tramping, mountain biking and skiing "Our happy place is the backcountry. In Queenstown you really feel you can get out into the actual wilderness and tread the path not trod."
Presently working full time at Remarkables Primary ("an understanding and flexible employer") Beth also volunteers for the Buddy Programme. "The thing about volunteering for both organisations is that it doesn't take a huge time investment to feel like you are making a difference. It's a couple of hours out of my week that are so uplifting."
Beth's belief in the importance of reducing waste has also been strengthened since joining KiwiHarvest. "My friends know there is no waste in my house" she laughs. Sadly she has also learnt how much need there is in the community. "Our area may be perceived as affluent but there are many people below the breadline here."
Beth says "When we pick up and sort a box of food we don't know exactly who it will be going to. That's part of the charm. We do know it will be very much appreciated." She would love to see KiwiHarvest grow into more areas.
Thinking about volunteering? Beth says "Just try it. You will meet lovely like minded people and realise that small actions really can make a big difference.I love telling people about volunteering at KiwiHarvest. It's just so positive."
KiwiHarvest began as a food rescue charity in Dunedin.Today five branches around the country are engaged in collecting and redistributing over 8 million kilos of food that would otherwise go into landfill. This food ends up on the plates of the 40% of New Zelanders who currently experience food insecurity.
Story written by Juliette Hicks, Volunteer South.