Volunteer Voices - "I'm fizzing to help... It's my seventh marathon volunteering at an aid station!"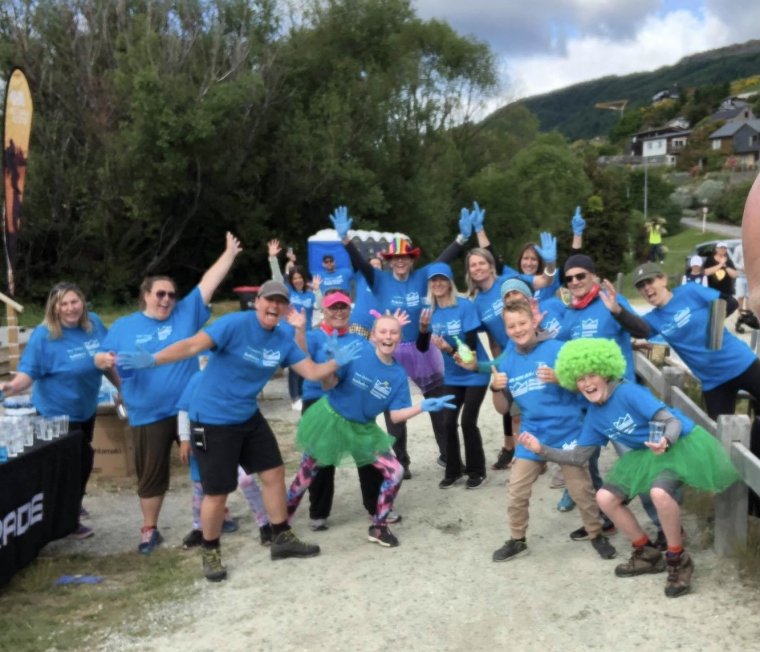 The New Zealand Sotheby's International Realty Queenstown Marathon has an international reputation for its scenic course, but volunteer Andi Smillie says it's the local flavour that keeps her coming back to help at an aid station.
"I'm fizzing to help on the 19th. It's my seventh marathon volunteering at an aid station and it's always a huge buzz '' says Andi.
Famous for its scenic courses, the Queenstown Marathon is a running festival incorporating 42km, 21 km, 10km and 2.2 km kids run options. With a backdrop of the Crown Range and the Remarkables the route takes in many of the highlights around Queenstown.
Andi is one of 500+ local volunteers who register, marshal, hydrate and motivate participants and without whom the race could not take place.
Andi says "At the aid station we treat all runners equally regardless of their ability and the best thing is being able to support a local who you have seen doing the hard mahi to get to this point." As a Les Mills group fitness instructor Andi has gym members doing the run and she knows lots of runners by name."It's so cool to be able to give them encouragement."
Each aid station provides two essentials - hydration and motivation. Andi says, "It's more than just handing out water. It's almost motivation first, hydration next. What we say to them could provide the final kick to get them to the finish line."
Andi and the team of volunteers take real pride in their aid station and work hard to make it the most memorable one on the course. "There's an informal competition for the best aid station. We really get into it with music, dancing, high fives and calling out to participants. I'm a stickler for tidiness too so we are constantly doing our housework."
Andi and her husband and two children have been in Queenstown for 22 years. They love the local community. An aid station pro, she also volunteers at the Motatapu, the Pioneer and Relay for Life. "I'm all about active relaxation" says Andi "Put me on a hike in the hills or cooking at home and I'm happy."
Andi says that the marathon is a truly inclusive event and that there are volunteering opportunities for people of any age. "Because it's such a fun community event a lot of older people just want to be involved and they can be." She says a lot of the volunteer roles aren't physically taxing and because there is such a variety of roles people can choose what works for them.
By volunteering Andi hopes that her children will see that giving is a reward in itself. "I don't need formal rewards or recognition. Giving to the community is its own joy."
Thinking of volunteering? Andi says "Embrace it with gusto. Regardless of where you are at in life, get amongst it. It's so heart warming helping others. Marathon day is one of my favourite days of the year."
Queenstown Marathon are looking for volunteers to help out on Friday 18th and Sat 19th November in a number of roles including registration assistants, course marshals and finish line support. Free Skyline Gondola Annual pass to all volunteers and no experience necessary. Get the sign-up link on the website (queenstown-marathon.co.nz) or email volunteer.queenstown@ironman.com
Story written by Juliette Hicks, Volunteer South.