Volunteer Voices - "It might even take you on a journey you were never expecting to take." -Su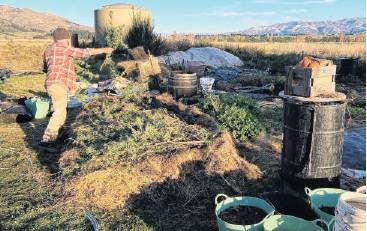 Su Hoskin loves nothing better than to have dirty hands. "Hands in the soil, that's my happy place." she says.
One of the trustees of the Hāwea Food Forest Charitable Trust, the community is lucky to have this knowledgeable biodynamic gardener contributing her time, energy and skills to a project which is of increasing importance to local food security and resilience.
The three hectare plot for the food forest is part of the Hāwea Domain. Leased from the QLDC in 2012, a core group of keen local gardeners organised working bees and planted fruit trees for a self-sustaining food forest that mimics an ecosystem. It has evolved into a community garden where Su and her fellow volunteer gardeners grow produce and hold educational workshops some of which are centred round biodynamic principles. The garden supports local community pantries and has just put up its own larder at Camp Hill Coffee.
The natural science of biodynamics is the oldest regenerative gardening method and is a holistic, ecological and economical approach to sustainable land use and restorative change.
Su says the Food Forest is very like the community it serves. "There are layers that support and contribute to the well-being of the whole. It's a living system that is always balancing and evaluating itself so it will flourish."
A big part of Su's volunteer role is education, a theme that runs throughout all her volunteering. Aside from running workshops at the Food Forest she manages the learning and sharing group Biodynamic Community Aotearoa, co-hosts the Death Cafe (a safe place to discuss death and dying) and is keen to support the community in the event of an emergency response situation. "I don't call myself an educator but I definitely love the exchange of knowledge between people."
She grew up in a small village in Hertfordshire, England. The community relied on volunteers. "My mother was a seamstress and did lots of repairs free of charge. My father, a carpenter, spent countless hours growing food in the village allotments."
Su enjoyed a very successful career in fashion as a window dresser and buyer. It was when she began to travel that she became aware of the degree this industry is a major contributor to waste and responsible for terrible people management systems.
Her travels took her to 10 countries but coming to New Zealand felt like coming home. The strong community vibe Hāwea has to offer was a big draw card when moving here in 2004. She began her biodynamic journey through an interest in compost while working with worm farms at Wastebusters. Meeting her husband Simon at a dance Party in Castle Hill sealed her fate. "The theme was "Destinations" I guess my destiny was set," laughs Su. "We love it here - the mountains, lakes, the starry skies and the seasonal changes."
Su considers herself a biodynamic guardian. "We don't own the land. We are purely its custodians." Her volunteering gives her a way to do this and she gains great joy from providing nourishing food grown with a big nod to future generations.
Considering volunteering? Su says "It's super beneficial to you and the community, nourishes heart, mind and soul and it might even take you on a journey you were never expecting to take."
The Hāwea Food Forest is a charitable trust that are transforming a public reserve into a bountiful food forest providing food, a social facility, an educational hub for horticultural, health and hobby workshops, social tree planting days, a local heritage tree bank, and a community tree park for local people, their families, and visitors.

See https://volunteersouth.org.nz/roles/2159/working-bee-helpers for more information.
Written by Juliette Hicks, Volunteer South.