Volunteer Voices - "It's a privilege and something I love doing." Sharyn Gingell-Kent.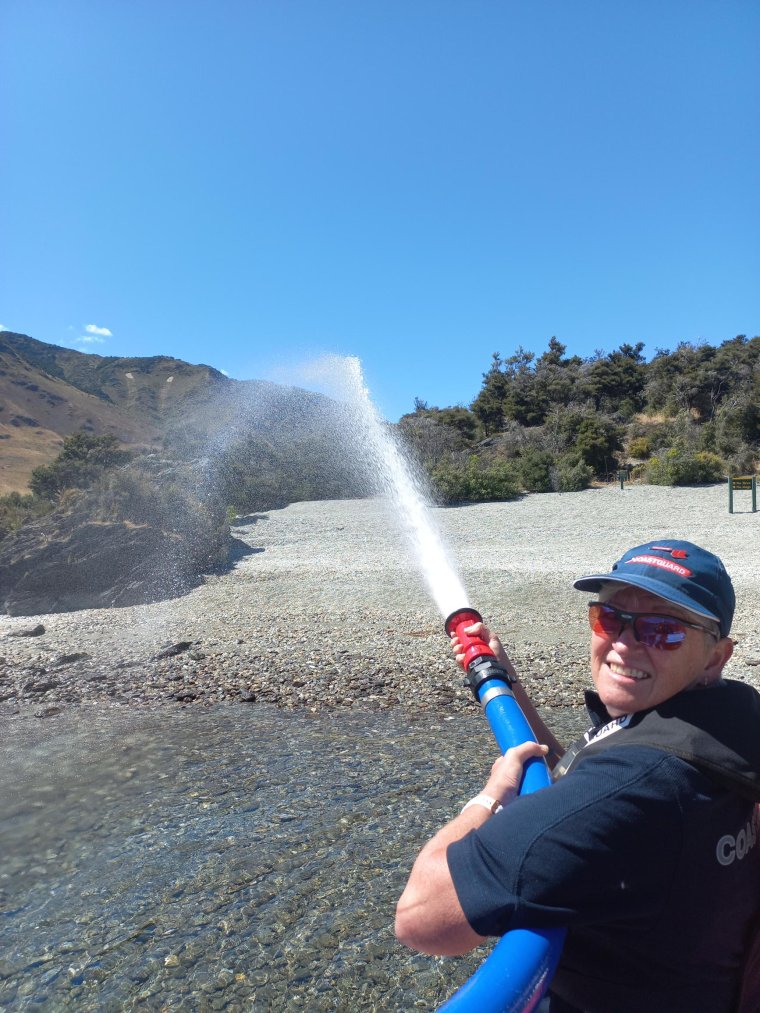 Written by Juliette Hicks, Volunteer South.
Boating, sailing, paddling and swimming are synonymous with a Wānaka Summer. Juliette Hicks speaks with Sharyn Gingell-Kent, a volunteer committed to keeping us safe while we enjoy our beautiful lakes.
"I don't really frame it as volunteering. It's a privilege and something I love doing" says Sharyn Gingell-Kent of her role as a Senior Crew member with the Wānaka Lakes Coastguard. "Being out on the water, undertaking missions, the ongoing learning and the feeling of camaraderie all make this an interesting and fulfilling gig."
One of 30 volunteers who give their time to Coastguard overseeing Lake Wānaka and Lake Hāwea, the group is made up of shore based crew who support those on the water with communications and administration, and wet crew who are on the boat and include deck hands, qualified and senior crew and a master or skipper.
"A lot of people think we're connected to the Harbour Master but we are about safety rather than management on the lake. There's a lot of liaison with other rescue organisations and we have a close relationship with the Police and LandSar. Our sophisticated imaging equipment is useful in many rescue and recovery missions."
Being on or in the water is in Sharyn's blood. Growing up with her three sisters in Te Anau she has vivid memories of fun summers in the local swimming pool, fishing for cockabullies in the lake with a cotton reel and worms and the thrill of Santa arriving by float plane.
Winning a scholarship at school to study computer programming gave Sharyn a career with the opportunity to travel widely. She has always pursued adventure. "I got into paragliding and scuba diving and did long distance cycling. I met my husband Kevin at work and he won points for being a scuba diver."
Moving to Wānaka 18 years ago Sharyn quickly sought out like minded people who enjoyed doing stuff. A founding member of Wānaka Lake Swimmers she became involved in triathlon and competed in Challenge. After injury forced her to stop running she volunteered for Challenge and Junior Challenge.
Five years ago she joined the Coastguard. "I'm a club person," says Sharyn. ""I love the family vibe I get from being in a club, the fun, the team work and I was searching for that. "One of our lake swimmers was volunteering for Coastguard and I thought it sounded right up my alley." She has since worked her way up to Senior Crew on the water with the additional responsibility of Unit Training Coordinator.
"Being on the boat is one of my happy places," says Sharyn. "I love that we can help people with the added bonus of being on that beautiful lake."
Thinking of volunteering? Sharyn says "Give it a go. It's rewarding and you can meet people from all walks of life. Our Coastguard is manned by wonderful people from diverse backgrounds. We're all serious about water safety but we have a lot of laughs too."
At Volunteer South we can discuss your skills and goals for volunteering and help make the perfect match