Volunteer Voices - Speedster Kylie Murdoch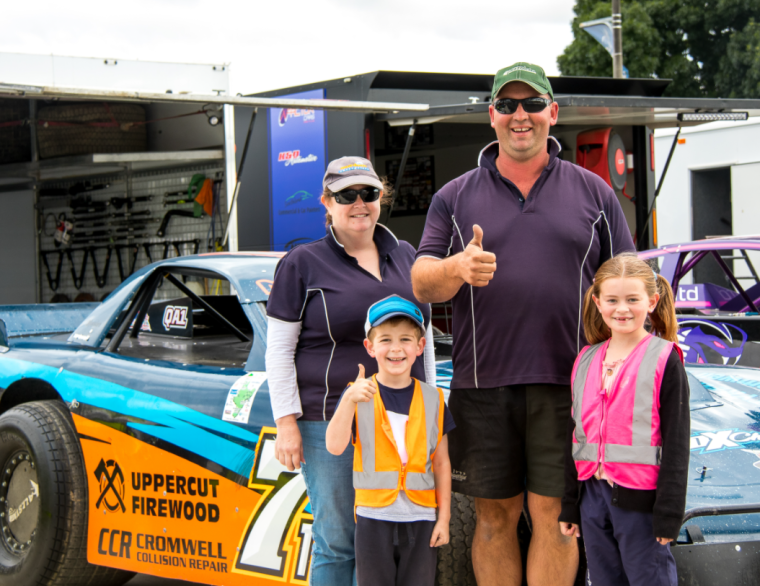 Written by Juliette Hicks for Volunteer South and Central Motor Speedway.
An early date at the Speedway wasn't a winner with Kylie Murdoch. "It was noisy and dirty and I wondered why on earth my date didn't play rugby like everyone else I knew,"she laughs.
Fast forward and she's now married to that date and heavily, and happily, involved in volunteering at the Central Motor Speedway in Cromwell.
So what changed? Kylie says it was partly the excitement of the racing, the atmosphere, but it was equally the people. They were so friendly and welcoming." These people have become family. "With Speedway you have friends all around the country, everyone knows everyone. It's really unique like that."
Central Motor Speedway is a not for profit organisation. "Because it's located next to Highlands Motorsport Park a lot of people think that they're associated businesses." says Kylie. In fact it's a community asset established 41 years ago and relies on public gate sales and race day sponsorships for funding. A Committee of 12 and an army of volunteers make it happen.
From Timaru originally Kylie was involved in volunteering at a young age coaching netball and acting as the junior delegate for a drama group. She laughs at all her different jobs but says it was a role as a part time dance teacher that ignited her desire to be involved with children and led her to work in early education. She gained formal qualifications by correspondence after meeting her husband Ivan at a Rotary Youth Leadership camp and moving to Cromwell.
In a busy life helping her husband with a thriving firewood business, running a community mothers group and volunteering Kylie says she doesn't "have a not happy place." She admits the Speedway is probably one of her happiest places.
Most weekends and holidays she and Ivan, Amelia (10) and Finn(6) will be doing something Speedway related. "Ivan drives our car but I love the fact that it's a genuine family thing. The kids are recognised as Junior Volunteers and it's such a warm community. We travel all over the country together."
Her Speedway volunteering started by manning the pit gate. "It's the coolest role. I get to see and talk to everyone on race day - drivers, the pit crews, volunteers." It's a role she's continued to love doing while simultaneously moving onto the Committee two years ago and to the role of Secretary 6 months ago.
She admits all the roles suit her down to the ground. She is a people person, a communicator and a networker. "Oh and I love race day.The noise, the dust, the dirt, the smell…". Are we talking petrol in the veins here ? "Yes definitely. But I also love my job as a facilitator for a mothers group."
On a community level Central Motor Speedway brings a lot to the table. Kylie says race days contribute hugely to the local economy. "We bring people in from all over the Southern region and they all want fuel, food and a bed." Socially it's a happy way to bring people together and add some family friendly excitement and joy to life at a time when Covid fatigue is very real.
Kylie admits it's a busy and sometimes hectic role."The recent compliance issues with Covid, vaccine passports and all that have been next level challenging," she says "but we have a policy of not cancelling. We don't want these things to affect the entertainment we provide so we do what we have to do to keep racing."
So what can volunteering do for you? Kylie says "You can meet great people, fill your bucket and you might even find where you belong."
Volunteer South loves sharing volunteer stories and inspriring others to volunteer. Kylie attended Volunteer South's Secrets of Sponsorshop workshop in 2021 and we have enjoyed getting to know her and the organisation since. For more information on Central Motor Speedway head to https://www.centralmotorspeedway.co.nz/