Volunteer Voices - Volunteering helps Shayla support other youth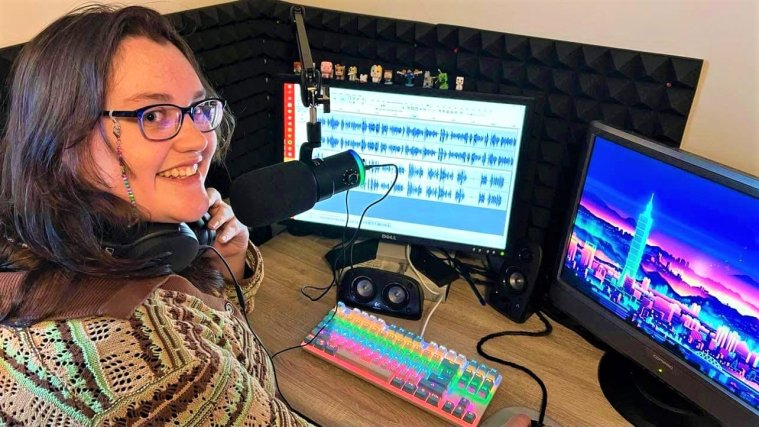 Story by Angela Reid, Story Writer Volunteer; Photo supplied
Shayla Kara knows what it's like to struggle in dark spaces. But volunteering's been a source of light.
And just as volunteering has supported Shayla, Shayla is supporting other young people.
Shayla — who is non-binary so uses the pronoun 'they' / 'their' — had a magic volunteer moment in 2021. Shayla had been recovering from severe depression at the time and was unemployed because they weren't ready to re-enter the workforce.
"So I talked to a few career advisers and some counsellors, and I ended up on the Volunteer South website because they suggested volunteering would be a good way to kind of get back into work without the pressure. And I ended up seeing that they were looking to start a radio show," Shayla says.
That radio show is The Youth Impact, which airs every Friday on Otago Access Radio (OAR). The show was initiated by Volunteer South, who had noticed a rise in youth volunteering and wanted to support this demographic.
The idea was that The Youth Impact would be created by young people themselves, giving them an opportunity to gain skills and experience in the radio/podcast sector. The show would be a voice for youth to engage with their peers while exploring and promoting volunteering, highlighting volunteer opportunities and showing the impact youth volunteering can have on the community.
When the call for volunteers was made, Shayla was keen to just help out behind the scenes. Shayla had been involved in a practice radio show while doing media studies at high school but, while Shayla enjoyed it, didn't think anything would come of it.
Shayla had more experience than other applicants and was made co-ordinator, joining three other team members. The first episode aired in September 2021.
By the start of 2022, Shayla had stepped into the foreground. Shayla's team-mates had moved on, due to relocating or other commitments, and Shayla began creating and hosting The Youth Impact single-handed.
Whatsmore, Shayla has been creating and recording the show from home since early 2022 because of pandemic restrictions and construction work at OAR. While it was quite an adjustment at first, Shayla enjoys being home-based because it means they can produce and record the show at night.
"I absolutely love the show," Shayla says. "It changed a lot of my perspective on things… The show made me realise I'm much more into the creative side of things. So I enjoy just making stuff and being more of a content creator than I realised. So yeah, it really opened my eyes to just who I was as a person."
This isn't Shayla's first volunteering role, nor is it the first to lead to personal growth. Shayla's been volunteering "officially" since age 15 or 16, mostly in one-off roles like working in a cat café and at an exhibition.
Shayla's volunteered in elderly care too, keeping seniors company and "making them a cup of tea." It's a familiar environment for Shayla, as their mother works in this sector and Shayla would often pop in and entertain the seniors with stories as a child.
These various volunteer experiences were valuable because Shayla endured severe social anxiety when younger. "I was terrible with people, absolutely. I couldn't talk to anyone."
While volunteering in elderly care helped with talking to adults, Shayla still struggled to talk to people their own age.
"The show has definitely helped with that… It was really the one thing that I wanted to work on the most and almost all of my [volunteer] jobs really helped me with that."
Shayla also volunteers with Dunedin Pride, having started there as a facilitator at about the same time as The Youth Impact began. A few months ago, Shayla became a general board member.
"I'm also working with the youth there as well, with the young rainbow youth, and I want to take care of them."
Being a young person is very difficult in general, Shayla says, but volunteering presents a wide range of roles from which youth can unearth and practice skills while gaining workplace experience.
Volunteer opportunities are discussed on The Youth Impact. Topics have included working in animal care, museums and libraries, volunteering from home, and emergency volunteering.
"I try and make it as fun as possible, as casual as possible, just so it's not 'you need to go out there and do this job'," Shayla says. "It's just 'hey, this is what's available and this is something that can help you in your life and will help the community'."
And while young people may simply not be aware of volunteering, or think they're too young to do it, they have a lot to offer, Shayla says.
"As they haven't been in the workplace before, they've always got a natural curiosity and a willingness to help out a lot of the time. And I don't think we give them enough credit for just how work-motivated they can be."
When reaching out to youth through the show, Shayla improvises, to come across naturally, and tries to make it sound like they're having a conversation with the audience.
Shayla clearly cares about that audience. Shayla's made wellbeing part of the show, covering topics such as negative emotions, sleep health, sickness and boredom, and sexual health.
"I try to talk about taking care of oneself because I believe that is the fundamental part of volunteering. Volunteering is helping others, helping your community, but for me it's helping yourself most of all as it's something to just give you something to do, just enrich your brain, keep you occupied, keep you learning. And yeah, I find it's the best way to have a social life, physical life and mentally healthy kind of life," Shayla says.
"My first priority is the listeners themselves, for them to be happy and healthy and comfortable with what they're doing. And I just love being able to say that to someone [who is listening] because it's something I wouldn't have heard when I was their age."
Shayla's teenage years and early 20s were shared with depression, which meant "the future was always a hard thing to look at" and Shayla took life a day at a time. Shayla still doesn't really think about the future much or make strong goals. However, Shayla's short-term future includes first-year creative design studies at Otago Polytechic, a move prompted by that creative self-discovery experienced through The Youth Impact. Shayla will continue volunteering with Dunedin Pride too.
Shayla's also keen to stay on with The Youth Impact. While clearly protective of the show, the 24-year-old's also aware they're stretching the definition of "youth" and may one day have to hand over the show's reins to someone younger.
"I want to hand it off to someone [who will] have the same kind of ideals as me, who would take care of the show like I have."
You can listen to Shayla on The Youth Impact every Friday at 4.30pm on 105.4 FM
For past episodes, go to the Otago Access Radio website