Volunteer Voices - "You get so much satisfaction out of helping people and meeting people." - Trudy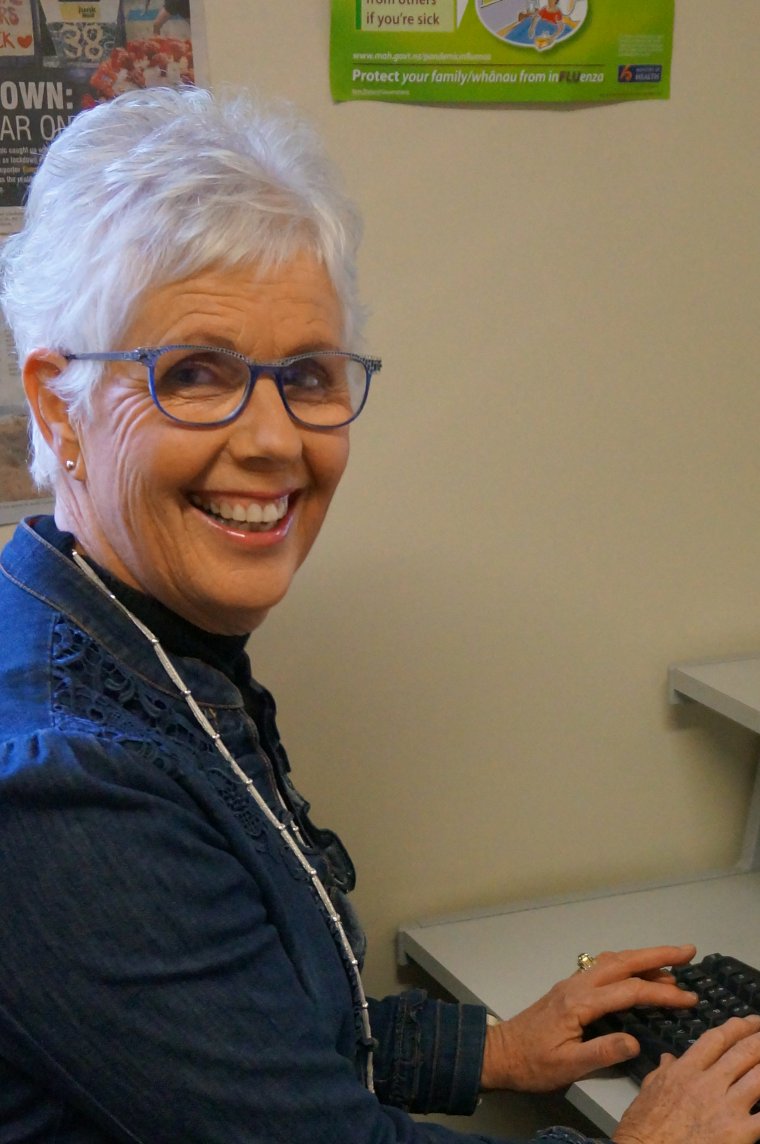 All of us can recall a time when we had no idea where to look for a solution to a problem. Imagine picking up the phone and hearing a friendly voice that will point you in the right direction to get started. If you are in Alexandra, that helpful voice just might be Trudy Small.
Born and raised in North Otago and then spending the middle years of life owning a farm with her husband while working as a school teacher, Trudy moved to the Alexandra area in 2010 when their son took over. Shortly thereafter, Trudy began playing social tennis as a way to meet people.
Over coffee after tennis one day, one of those new friends suggested that she look into volunteering at the Alexandra Community Advice Network (ACAN.) ACAN is a volunteer organisation that provides free, friendly and confidential information and support in Alexandra and surrounding districts.
After receiving training from the present chairperson Chris, and being on roster with more experienced volunteers for wee while, Trudy was soon acting as an Advisor for people looking for information. She explains: "as an Advisor, we don't solve the problems; instead we point people in the right direction to help."
When I asked Trudy for an example, she shared this one that demonstrates that a seemingly simple request fulfilled can make a meaningful difference. "An elderly lady rang saying she would like someone to come to her home to cut her hair. She was just out of hospital and unable to go out to the hairdressers. At the ACAN Office, we rang around the local hairdressers and people we know and found that special person who was happy to visit and cut her hair."
While it is "hard if you can't immediately find an answer to a query, Advisors will often take a phone number and get back to the caller." But Trudy enjoys a challenge and being able to solve a problem, so digs in, does the research and then presents the found information to the recipients, where she can hear the gratitude in their voices. Ultimately, that is why Trudy volunteers. "It's rewarding to help people get to where they want to be."
Trudy soon joined the management committee, attending monthly meetings and becoming involved in the inner workings of ACAN - funding, ways to be better, how to find volunteers and how best to look after them. It's been fun to be "involved in discussing where ACAN is going and how to get there." Particularly rewarding is when they see a need and create a solution, like the recently launched driving service that provides rides to medical appointments, the library, banks, etc. to members of the community without access to a vehicle or public transport.
Trudy also volunteers with Oasis, an op shop run for Catholic Social Services which provides counseling and other services around Central Otago and she also spent a few years volunteering at the Alexandra Toy Library. At both places, one of the joys was interacting with and helping the people who come in, whether they are looking for a bargain, a toy for the week or a chat.
What would Trudy say to others considering volunteering? "Yes, it's a wonderful thing to do. You get so much satisfaction out of helping people and meeting people." Trudy believes that everyone can find their little niche where they can do their turn.
And as evidenced by her story, volunteering is a great option if new to a community or newly retired, as it provides an easy way to meet lovely, capable people from all walks of life and to get to know what's available in the area.
In summary, Trudy "couldn't recommend volunteering more – you get so much from it."
Written by Susan Merriman, 2021
If you'd like to volunteer with the Alexandra Community Advice Network, head to their website: https://acan.co.nz/