Volunteering - great for you and your community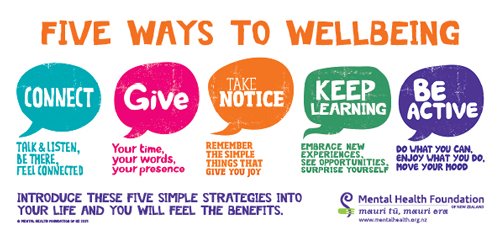 Mental Health Awareness Week is running between the 18th and 24th of September, raising awareness of the importance of looking after ourselves and each other.
WIth a focus on the 'Five Ways to Wellbeing' as a set of tools to boost mental health, Volunteer South is encouraging people to consider how volunteering can help achieve these five actions and is a great way to boost wellbeing.
Take Notice, Give, Be Active, Connect, Keep Learning. All these actions can be achieved through volunteering.
"We're fortunate to have a great range of volunteer opportunities to choose from in the area. Whatever interest people have, there are a diverse mix of organisations seeking volunteers to help support their cause, and volunteers who help out not only help strengthen our community, they also give their wellbeing a massive boost."
"Volunteering is known to have a huge range of benefits to an individual's wellbeing. Take parkrun for example where you can volunteer every Saturday at a free timed 5km walk/run event. You can give your time and energy whilst connecting with others, be active as the tail runner, take notice of the wonderful environment around you and keep learning as you gain an insight into event planning!" says Peter Claman, Volunteer South's Community Connector - Supported Volunteering.
Peter and the team from Volunteer South will be at the Mental Health Information Fair at Tūhura Otago Museum on September 19th, 1pm - 5pm. Head along to have a chat with them about volunteering or head to their website to see how you can connect to your community through volunteering and boost your wellbeing at the same time.